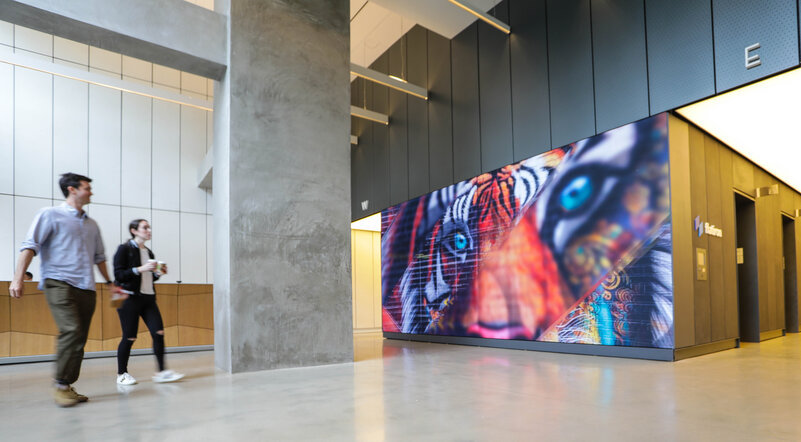 Bring These Larger-than-Life Displays to Your Commercial Spaces Today
The lobby and communal spaces of your St. Louis, MO, commercial building are often the first areas team members and guests see when they enter. You want to create a welcoming and engaging environment for all, but how can you achieve this elevated space?
Stunning video walls can create this desired atmosphere in any area, drawing people's attention and interest with large displays. Are you ready to experience this top-notch digital signage across your property today? Keep reading to learn more about the benefits and features of video walls for your spaces.
SEE ALSO: The Digital Workspace: The User Experience and the Realities of Different Spaces
Vivid Visuals
With a 4K resolution and large display, video walls can transform your commercial spaces entirely! Find yourself enraptured by the beautiful and lifelike visuals the screens showcase, and change their displays with the tap of a button. You get to decide what these displays feature—and with every selection, you can create a jaw-dropping visual or bring the whole space together with an engaging and entertaining choice.
Digital Signage Uses
Video walls can leave anyone stopping and staring for a good amount of time. With those large, stunning visuals, their usage can sometimes simply be to wow and inspire! But what other uses can these incredible screens provide?
Crucial Information & Announcements: For regular employees or guests for an event, any readily available news or updates are essential! Video walls can easily display this type of information, letting you edit and update the screens as you please.
Educational Purposes: Large screens can also deliver appropriate information or details about certain areas of your building or even exhibits, depending on whether it's a museum or educational space.
Guides & Maps: It's easy to get lost in a building of nearly any size! And when you have clients and guests visiting, you want to ensure they find their way without hesitation. Video walls can switch to a guide, map, or listed amenities and spaces to help anyone viewing them.
Entertainment on a Loop: Of course, video walls can display all sorts of beautiful media! From promotional videos to curated videos that keep everyone watching and engaged, these screens are designed to catch the eye and draw others in to view them.
Work with Our Team of Experts
At McCann Systems, we aim to deliver top-tier audiovisual solutions for your commercial spaces that you can rely on for years and years to come. We want to curate an engaging and inspiring environment for your employees, clients, and guests to experience the moment they walk through your doors.
Video walls are awe-inspiring and can provide incredible information and entertainment, but installing them throughout your property should never be a hassle! When you work with our team of professionals at McCann Systems, you'll never have to worry about the intricacies of integrating these high-performance screens. We'll take care of every step of the project from start to finish.
Want to find out more about bringing video walls to your commercial property? Give our team at McCann Systems a call or fill out our online contact form at the bottom of the page to schedule a no-obligation consultation with us. We look forward to hearing from you!