WALLINGFORD, Connecticut – December 15th, 2022
McCann is excited to add to its talented team of audiovisual industry veterans by hiring Matthew Rose and Bryan Maroney.
Matthew Rose joins McCann's Inside Sales team with 30 years of experience in AV. Matthew is CTS-certified and will focus on the northeastern AV integration business. Matthew has a wealth of knowledge and deep customer and manufacturer relationships and will be a tremendous asset to McCann.
Bryan Maroney joined McCann as a Solutions Architect and works with clients primarily in the Connecticut and Massachusetts markets. Bryan, also CTS certified, has worked in the AV industry for 15 years and carries many UC certifications. He has vast experience with both audiovisual services' manufacturer and integration sides.
Josh Bittner, Senior Vice President of Sales and Marketing, is excited to welcome them to the team. "Matthew and Bryan are wonderful additions to the McCann family. Their broad skillsets and extensive experience further deepen our pool of industry-leading talent. Having known Matthew and Bryan for many years, I am thrilled they decided to join our team."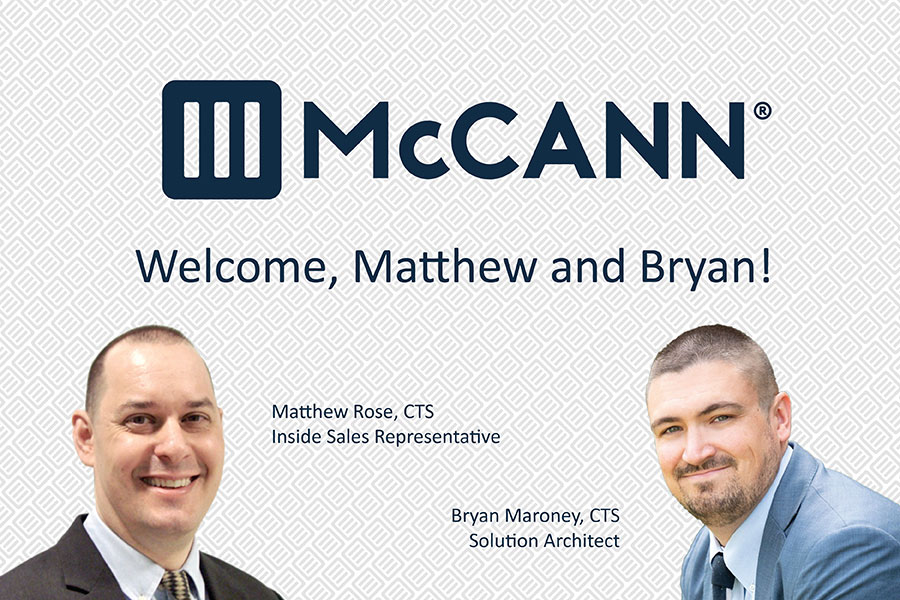 About McCann:
McCann Systems, founded in 1996, was established to design, integrate, and elevate innovative communications solutions for companies worldwide. In-house AVIXA CTS experts create a strong national footprint with a global reach, spanning North America with regional design and service offices. McCann Systems' environments can be found in every primary industry and across three continents, from corporate collaboration to award-winning digital art installations. Connect with us on LinkedIn, Twitter, Facebook, and Instagram.
Contact:
Director of Marketing