Meet Al Ragone, Senior Field Application Engineer (FAE) for McCann Systems. Curious about what an FAE does? The FAE is a crucial final step in the process after the engineers have designed it, the equipment has been procured by operations, and the installers have installed it. This is when the FAE comes in to connect the dots and bring the design to life. The FAE ensures that everything works as it should and that the client is confident operating the technology.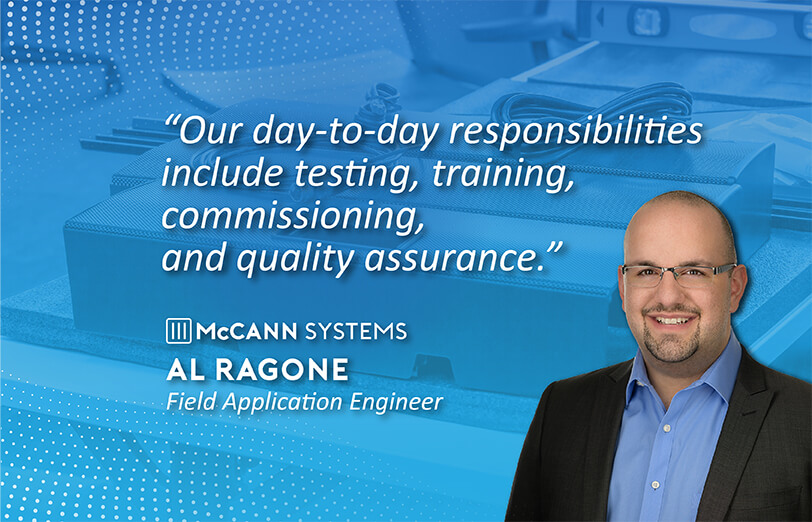 To hand the project over to the client, the FAE manages additional testing to make sure everything is up to McCann Systems' standards. Once this is guaranteed, the FAE trains the client on how to use the systems. Part of this process includes passing documentation over to the service department – a critical step allowing the service department to provide exceptional support to our clients when required.
FAEs work closely with the sales team, engineering department, design teams, and technicians to provide feedback and support regarding what works well in the field and what can be improved upon in future installations. This helps us avoid speed bumps down the road and to streamline all steps of our process- including design and engineering.
Additionally, FAEs play a crucial role in working with all departments at McCann, such as the project management team and service departments, by helping streamline communication and better support our clients and staff. We care deeply about making sure things work like they should – whether we are planning and installing projects or turning them over for clients – and FAEs play a large part in making sure this happens at each step of the way through our valuable experience and feedback.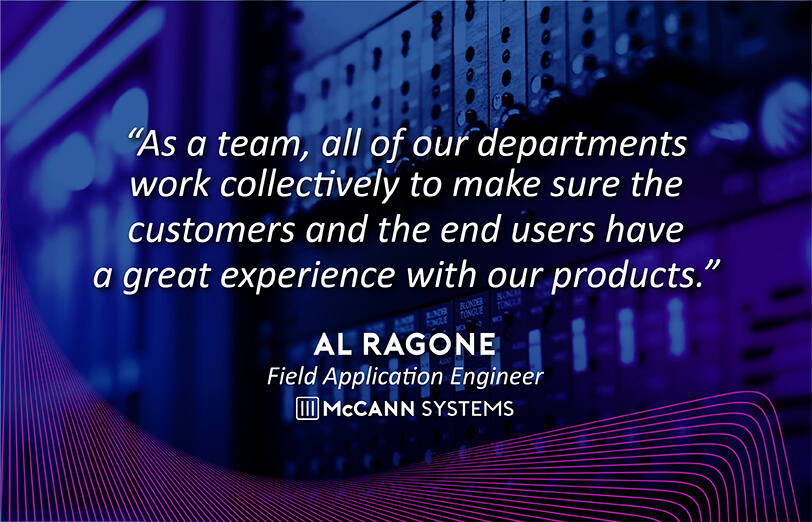 With advances in technology and a move for hybrid workspaces, the last couple of years have brought an increase in projects that allow for in-person and remote participation. Proscenium projects have been highly popular, allowing for a large screen with a hundred student faces visible, an interactive whiteboard, and other unique tools like polling, Q&A, and chatting. This creates an accessible classroom whether in the room or logging in.
Al has worked on every type of project during his time at McCann Systems, from UC&C projects to award-winning marquee projects. The projects that he finds most exciting are the larger-scale projects that require extensive preparation such as the casino and theater projects, as well as virtual classroom projects for the Proscenium platform. (At the bottom of this post, there are links included to a few projects that Al has been heavily involved in.)
Al says that one of the most critical aspects of the FAE's job is to make sure that the McCann Second Day Care is set up for success through thorough documentation and customer support. When something goes wrong, we know you need it fixed right away. From Sportsbook systems running 24 hours a day, 7 days a week to Proscenium projects connecting students remotely with an interactive lecture, you rely on AV systems to work 100% of the time.
Our industry-best Second Day Care provides our clients with remarkable levels of support to ensure exceptional functionality and productivity you can count on. According to Al, this next-level customer support is one of the factors that makes McCann Systems the best in the business.
Al describes the functional role of the FAE in the process but emphasizes that it is truly a team effort. The McCann Experience is what sets us apart. This has been part of the vision of the company since it was first founded by Frank McCann, Al explains. He says McCann "always wanted customers to just have the best experience possible with every person  in the company."
Dedicated to Your Satisfaction
We know the role that technology plays in your business, workplace, or entertainment space. Regardless of the size of the project, we care about delivering an experience that exceeds your expectations. Our highly trained experts, state-of-the-art technology, and extensive customer support are available to add to your next experience.
We have the experience and the technology to make your vision happen. Contact us today and learn firsthand why our team makes all the difference.
Explore Our Projects
Below is a list of some of the projects that Al Ragone, Field Application Engineer (FAE) for McCann Systems, has been involved in. Click on the project links to read summaries and view images.