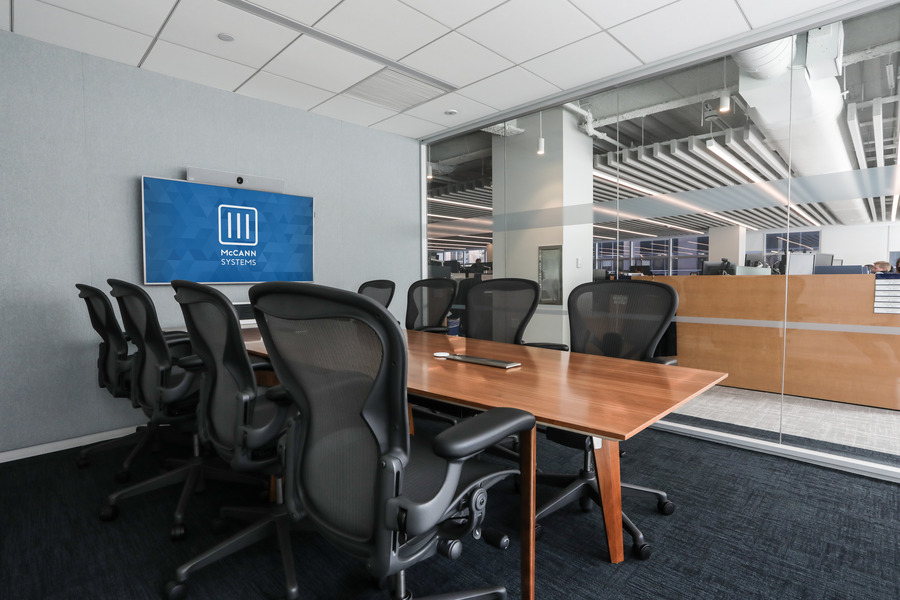 Evolving Meeting Spaces for the Modern Workplace
The digital transformation of the workplace has been underway for years, but the global pandemic accelerated the shift toward hybrid work models. While businesses in St. Louis and across the globe are asking or requiring employees to return to the office at least part of the time, most organizations are seeing the need to adapt to this new normal. With employees working from various locations—their homes, coffee shops, or shared workspaces—the need for effective conference room design is paramount. It's not just about having a space to meet; it's about ensuring that every participant, whether they're in the room or halfway across the country, has an equitable and engaging meeting experience. Keep reading to learn more about the challenges of hybrid meetings and how companies can reimagine meeting spaces.
SEE ALSO: How to Reimagine Conference Room Design for Today's Digital Workplace
Key Considerations
Purpose-Driven Design: Gone are the days when a conference room's sole purpose was to "hold a meeting." Today, the design must consider the type of meetings the space will support. Will the majority of participants be teleconferencing? If so, features like U-shaped seating, large-screen displays, and strategically positioned cameras and microphones become essential.
Optimizing Room Size: With the rise of remote work, there's a shift in demand from large conference rooms to smaller huddle spaces. These intimate settings are perfect for meetings with fewer in-person participants, allowing for more efficient use of office space.
Seamless User Experience: Employees have grown accustomed to user-friendly platforms like Zoom and Microsoft Teams during remote work stints. Translating this seamless experience to the physical conference room is crucial. Systems like Crestron Flex, which offer easy integration with popular platforms, can replicate a familiar meeting experience in the office.
High-Quality AV Experience: In a hybrid meeting, clear audio and video are non-negotiable. Investing in top-notch AV equipment ensures that all participants, whether in-room or remote, can clearly see and hear each other, fostering effective communication.
Designing More Effective Meeting Experiences
With employees working from various locations, including homes, local shared workspaces, or even coffee shops, the challenge lies in creating a cohesive team environment. How do you ensure that teams spread across different locations feel connected and have meeting experiences on the same level as in-office staff?
Equitable Visual and Audio Experiences: One of the primary challenges in virtual meetings is ensuring that every participant feels seen and heard. Traditional meeting room designs often fall short of providing a comprehensive visual experience. Imagine a remote participant trying to grasp the meeting's dynamics through a single camera feed; it's akin to "peering through a straw," as Microsoft aptly describes. Innovations like Microsoft's Front Row and Zoom's Smart Gallery are revolutionizing this aspect. They employ advanced cameras and processing techniques to provide remote attendees with a view as if they're right in the room, capturing nuances like facial expressions and body language. Coupled with modern layouts like U-shaped tables in meeting rooms, remote attendees can be on the same footing.
Moreover, clear audio is paramount. Misunderstandings and frustrations arise when participants can't hear each other clearly. Advanced solutions, such as smart microphones that can recognize specific voices and provide on-the-fly speech-to-text translations, are addressing this issue. Both Microsoft Teams and Zoom offer similar captioning and recording capabilities to ensure greater intelligibility for remote participants.
Flexible Meeting Spaces: The concept of the meeting room is evolving. Not every remote worker operates from a personal computer. As companies recognize clusters of employees in various remote locations, the idea of "pop-up" conference rooms is gaining traction. These adaptable spaces are equipped with portable AV equipment, allowing in-person collaborations in diverse settings, from shared workspaces to spacious homes. Such solutions seamlessly integrate with the company's collaboration platforms, ensuring that no matter where employees are, they have the tools they need for productive meetings.
Want to learn more about reimagining your meeting spaces for the future of hybrid work? McCann Systems is ready to help. Give us a call or fill out our online contact form at the bottom of the page. We look forward to hearing from you!