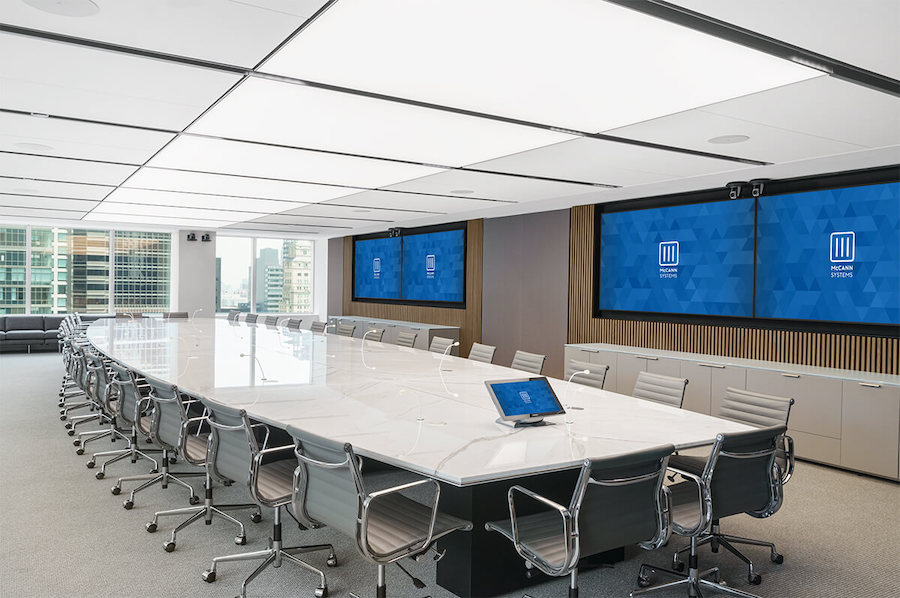 HARNESSING TECHNOLOGY TO CREATE INCLUSIVE, EFFICIENT, AND FUTURE-READY MEETING SPACES
In the era of digital workplaces, the traditional conference room is undergoing a significant transformation. As businesses in St. Louis and across the globe. adapt to new ways of working, the design of conference rooms must evolve to meet the needs of a tech-savvy workforce. The rise of hybrid work models, where employees split their time between the office and remote locations, has necessitated a rethinking of conference room design and utilization. Now, more than ever, there's a need to create inclusive spaces catering to in-person and remote participants, ensuring seamless collaboration and communication.
Keep reading below to learn about five ways conference room design is changing to keep pace.
SEE ALSO: The Value of Upgrading Existing Audio-visual Installations
VIDEO CONFERENCING EVERYWHERE
The rise of remote and hybrid work models has made video conferencing an indispensable tool for businesses. High-quality audio-visual (AV) solutions are now a cornerstone of modern conference room design. Clear audio and crisp video are essential for effective communication, ensuring that all participants, whether in the room or joining remotely, can contribute to the discussion effectively. Features like wide-angle cameras, noise-canceling microphones, and high-resolution displays can significantly enhance the video conferencing experience, making remote participants feel like they're in the room. Further, new software features, such as captions and speaker focus from platforms like Microsoft Teams and Zoom, enable remote participants to feel more included in hybrid meetings.
EMBRACING BYOD
The Bring Your Own Device (BYOD) trend has made its way into the conference room. Employees prefer to use their own devices, which they are familiar with, leading to more productive and efficient meetings. Wireless technology is crucial in facilitating this, allowing for seamless information sharing during meetings. Crestron, a leader in workplace technology, offers solutions like AirMedia, which supports wireless presentation from any device, making it easy for employees to share content during meetings, regardless of the device they are using.
INTEGRATED ROOM SCHEDULING
In today's fast-paced business environment, efficient use of time and resources is paramount. Room scheduling solutions help avoid double bookings and ensure that meeting spaces are used optimally. With the help of technology, room scheduling can be simplified, making it easy for employees to book rooms and manage their schedules. For instance, the integration of room resources in calendar applications allows employees to check room availability and book rooms directly from their calendars. Additionally, tablets installed outside conference rooms can display room availability and allow for on-the-spot booking, further streamlining the scheduling process.
MONITORING AND METRICS
Room monitoring is another aspect of modern conference room design. By tracking how meeting spaces are used, businesses can gain valuable insights into their space utilization. This data can be used to make informed decisions about resource allocation, energy efficiency, and future office design. Beyond ensuring that conference rooms function properly, room monitoring can provide metrics on room and equipment usage, helping businesses reevaluate and redesign their meeting spaces to suit their needs better.
SIMPLIFIED, COHESIVE USER EXPERIENCE
Above all, a successful digital workplace hinges on providing a simplified, cohesive user experience. This includes easy-to-use AV systems, straightforward room booking processes, and user-friendly room monitoring systems. A unified user experience enhances productivity and encourages collaboration and engagement among employees. Integration with major conferencing platforms like Microsoft Teams, Zoom, and Cisco Webex is crucial, allowing employees to use the tools they are familiar with, further simplifying the user experience.
As the very nature of work evolves, so must the workplace and its collaborative spaces. To learn more about bringing your conference rooms up to today's standards, contact McCann Systems today. Give us a call or fill out our online contact form at the bottom of the page. We look forward to hearing from you!