Nothing gets the McCann team more excited than the opportunity to design and build the audiovisual engine that drives the excitement of an in-person sportsbook experience. As a leader in sportsbook installations, with dozens of projects in our portfolio, we don't just focus on impressive technological feats. We go the extra mile to ensure fans get more out of watching their favorite sporting events than ever.
Sportsbook Installations are a Fast-Growing Segment of the AV Market
Nevada was the only state where sports gambling was legal for decades. With the Supreme court striking down the Professional and Amateur Sports Protection Act of 1992 by a vote of six to three, this all changed in 2018.
As of this summer, 31 states and D.C. had legalized sports gambling and at least five more states had plans to join the party soon. Across the country, fans are getting involved and loving every minute of it, leaving sportsbook venues, casinos, and racetracks in dire need of stunning audiovisual installations to match fan enthusiasm.
Even stadiums and ballparks are getting in on the action. McCann recently completed the AV integration at the largest ballpark sportsbook in the United States, Caesars Sportsbook at Chase Field in Phoenix, home to the Arizona Diamondbacks.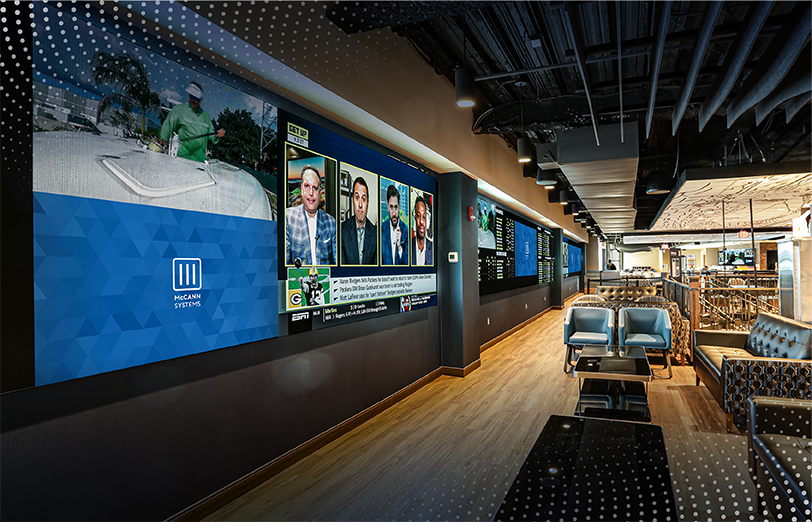 Driving Tourism Outside of Traditional Gambling Destinations
The rise in popularity of sports betting over traditional gambling games has opened up the potential for venues across the country to create local tourism hubs that revolve around a jaw-dropping sportsbook installation.
Regional sportsbooks cater to people who prefer to vacation closer to home or seek a relaxing weekend away, where they can casually bet on sports while enjoying other luxury amenities.
There's more to the popularity of sports gambling than adding excitement to the games:
It's easier to learn the basics of betting on sports versus traditional casino games
Sports betting is ideal for beginner gamblers who only want to place one or two wagers the entire night
Complex parlays and other advancements in sports betting give experienced bettors a wide variety of ways to play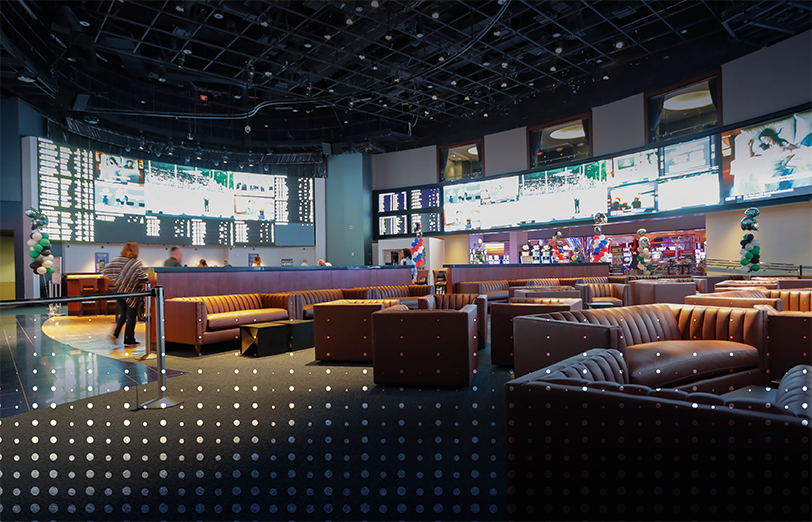 Creating An Environment that's As Exciting As The Game
When McCann takes on a new sportsbook project, the end goal is always to design and build a viewing environment that's just as exciting as the action taking place on the field, court, or racetrack.
We leverage technology to provide visitors experiences they can't find anywhere else, including:
Massive video walls with flexible image sizing
Crystal-clear viewing from virtually any location in the space
Dozens of events on display simultaneously
LED betting kiosks and odds displays
Mobile app integration with the system
Booming sound to make patrons feel like they're inside the stadium
Completing the evening
Eye-catching digital displays and vibrant sound aren't the only attractions driving fans to experience games at the sportsbook instead of watching on their home theater. Venues feature 5-star restaurants by famous chefs, multiple bars, outdoor spaces outfitted with additional displays, and more.
Create your custom sportsbook experience
Think a sportsbook or casino audiovisual installation will bring in more customers? Speak with a technical expert from the award-winning McCann team. We can show you how we can make that a reality and wow customers in your space!